Enjoy Screen-Free Play with Your Kids!
In our technology-drive world, endless entertainment is available at our fingertips. However, scientists warn about the dangers of constant technology use. While constant technology use has negative effects on people of all ages, the impact is significantly more pronounced in children.
Most experts recommend limiting your child's screen time in favor of screen-free play. However, most parents struggle to keep their children engaged, especially during times they need to enjoy quiet play (such as waiting at the doctor's office or while a younger sibling takes a nap).
At ExploraToy, we're dedicated to helping you make the most of screen-free play with your kids. In the article below, we'll provide four reasons why children need screen-free play, followed by a list of seven great toys and screen-free activities to do at home with kids.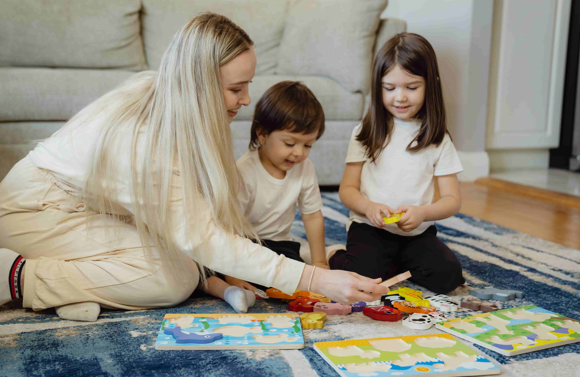 Why Children Need Screen-Free Play
Screen-free play is important for children of all ages. In fact, children under the age of two should have absolutely no screen time and children from two to five should have no more than an hour a day. That leaves a significant portion of the day for screen-free play. The following are four reasons why children need screen-free play.
Time away from screens is good for their sleep patterns.
Time in front of a screen can have a negative impact on a child's sleep schedule. Screen-free play is a great way to engage your child and enforce healthy sleep rhythms. To ensure a healthy sleep schedule, make sure your child doesn't have any screen time for several hours before bedtime.
Physical activity helps foster healthy growth and development.
It's hard for your child to be physically active if they're parked in front of a screen. Children of all ages should have physical playtime where they run, jump, and play games. While getting outside is best, there are plenty of ways to keep your child active from the comfort of your own home.
Boredom is good for your child.
Screens have rewired our brains, making it incredibly difficult for us to cope with boredom. It's good for your child to be bored sometimes. It gives your child space to solve problems and think of creative ways to keep entertained.
Screen-free play encourages mindfulness.
Mindfulness is important to help your child to connect with their thoughts and emotions on a deeper level. Mindful activities such as coloring and doing puzzles allow your child to build focus and release stress.
7 Toys That Can Help with Screen-Free Playtime
Now that you know all the reasons screen-free playtime is important, we'll provide you with some great toy recommendations to help you keep your child entertained during screen-free play.
Puzzles
Jigsaw puzzles and other brain teasers are a great way to keep your child entertained. They also help your child build focus and concentration, a skill they'll need to succeed in school. ExploraToy's Wooden Brain Teaser Magic Cube Puzzle is a great puzzle to keep your child entertained for long periods of time.
Building Blocks
Whether your child likes wooden blocks or interlocking blocks like Legos, these toys are great for encouraging open-ended play. These also make a great activity for children to enjoy with siblings or friends.
Board Games
Whether you're playing with your child or leaving your children to play together, board games are a great way to encourage screen-free play. ExploraToy's Connect 4-in-a-Row Wooden Game is a simple game that's good for children of all ages.
Coloring Books & Crafts
Most children enjoy creative play. Coloring books and crafts are a great way to engage their creativity, even for hours at a time.
Magnetic Mazes
Magnetic mazes and other similar activities are a great brainteaser to keep your child entertained without a screen. ExploraToy's Magnetic Wooden Puzzles are great for keeping your child quiet in waiting rooms.
Dolls
Dolls and stuffed animals are great for inspiring imaginative play. Since there are countless ways for your child to play with these toys, your child will have endless opportunities for screen-free play.
Fine Motor Development Toys
Fine motor development toys are toys that help your child learn to knot, lace, sew, or complete other fine motor tasks. ExploraToy's Lace and Trace Toys Set has seven shapes for your child to lace and comes in an little box for easy transportation.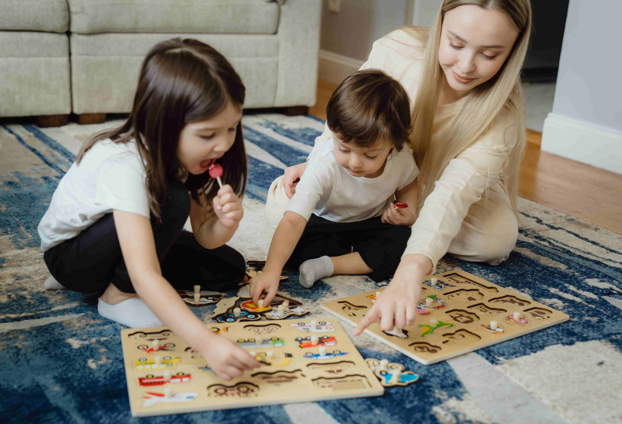 Final Thoughts
We hope this resource has helped you take your child's screen-free play seriously. The benefits of screen-free play far outweigh the short-lived benefits of putting your child in front of a screen. There are many toys that can help your child enjoy their time away from screens.
If you're ready to shop our full selection of screenless wooden toys, check out our store here. Your children will love them and you'll love the benefits they get from time away from screens.
---