Playful Learning Ideas for Toddlers
Researchers are uncovering more and more evidence that play plays a vital role in your child's development. An estimated 80% of development occurs before your child is three, with 90% of brain development occurring before the age of five.
Playtime with your toddler is ripe with opportunities to help them learn. Educational toys for toddlers can be a powerful aid to your child's development. If you're looking for ideas to help your toddler grow, we're here to help. The following are seven fun educational activities for kids to help you make the most of this important time in your child's development.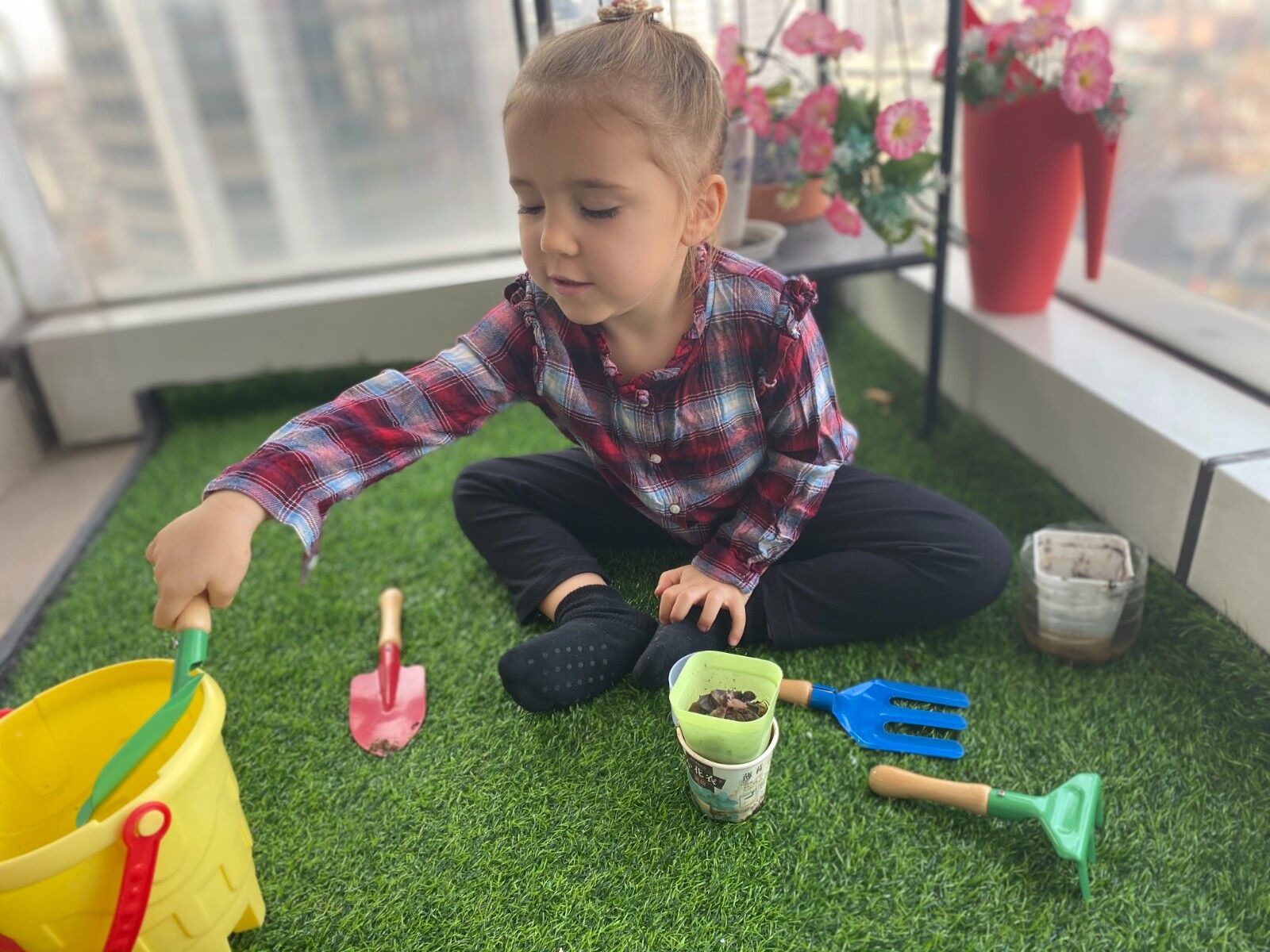 1.Sink or Float
This fun little experiment allows your toddler to begin learning about science, even if they aren't ready to grasp more advanced scientific concepts. Fill a small container (or the bathtub) with water. Set aside several items and have your toddler guess whether the item will sink or float.
Some household items that work well for this activity include things like plastic toy bricks, a sponge, silverware or dishes from the kitchen, a cotton ball, a piece of cardboard, a crayon, or any other small items found around your home.
2.Plant Seeds
Whether you have a garden or not, planting seeds is a great way for your child to begin learning about how plants grow. Even if you're just planting a couple of seeds in a pot for your kitchen counter, your child can benefit from this activity.
Children can learn a lot about how nature works by getting their hands dirty. Our Garden Tools Toys 4pcs set allows your toddler to have their own set of tools for working in the garden. Whether you're planting seeds or pulling weeds, your child can learn about nature while developing fine motor skills they'll need in school.
3.Make Up a Story about a Picture
Creative storytelling is one of the most effective creative ideas for play-based learning. Pull out a wooden puzzle or other activity that has a picture. For example, you might pull out our Noah's Ark Wooden Jigsaw Puzzle. As you and your child build the puzzle together, ask your child to tell a story about what's happening in the picture.
If your puzzle has multiple people or animals (like our Chunky Puzzle 3-set), you can ask your child what their names are and what they're doing. This encourages your child to think creatively about the activity they're doing. Creative play is also a powerful tool to help your child's language skills.
4.Practice Counting
This is another great learning activity you can do at any time during play. If your child is playing with blocks, work together to count the blocks. If they are putting together a wooden knob puzzle, count the pieces as you put them into place.
This activity works with almost any toy or activity. Practice counting up to ten on a regular basis. Once your child can count to ten on their own, start counting to twenty. You can also use our Wooden Knob Puzzles with Numbers, Letters and Shapes to teach your child how to count from zero to nine. Educational puzzles for kids are a great way to teach those foundational skills.
5.Learn the Colors
Use playtime to help your child learn their colors. You can do this as the play with any toys. For example, you can point to a toy and ask your toddler what color it is. When they answer correctly, give them verbal praise and point to another object. Repeating this activity, especially when your child is still learning their colors, is a great learning opportunity.
Once your child knows their colors, you can have them bring you objects that all have the same color. For example, have your children bring all the red toys in the room. If you're still working on teaching your child to count, count those red items together.
6.Find Shapes
Draw several different shapes on a piece of paper and walk around the house looking for things that fit those shapes. For example, you might draw a rectangle, circle, triangle, and square. Walk around the house with your child and have them point out places where they see those shapes.
This learning activity will help your child identify shapes in real life (instead of only learning how to identify them on the page). If your child is still learning their shapes, it's a great way to reinforce that learning.
7.Invest in Educational Toys
While there are plenty of educational activities to do without buying new toys, educational toys are a fun and simple way to invest in your toddler's learning. Our toys for preschools are high-quality wooden toys that help your child learn about the world around them. We believe in better toys for better growth.
You can choose from our selection of wooden games, toddler puzzles, and more. You can use our toys for a number of fun educational activities. Click here to check out our full selection of products.
---